The featured image above is of my grandmother Marion Bowman (on right) during one of her many visits to the Abenaki reservation of Odanak, PQ. I shared a lot with my grandmother, for one I carry her last name Bowman as my middle name. We also shared the same birth date of January 14th. Her passion to embrace our Native ancestry. I would imagine she would be very proud of her many descendants who have chosen to unearth, preserve, share and revitalize so many parts of the Native American culture she knew very little about. Before her death she created the first Conservation Easement in Saratoga county. Donating nearly 100 acres passed down in our family to remain forever wild and used for educational purposes. She loved the land we now call Ndakinna, land where we now teach traditional survival skills, language and martial arts. Body, mind, and spirit.
In maintaining my own balance of body, mind, and spirit, I have been writing an ongoing blog, within which I am collecting and sharing publicly all the documentation I can find in regards to the deep Native American roots of the Bowman family in Algonquian speaking communities across the Northeastern United States. It ties closely to my work as a Voice coach and also to my constant curiosity about our families connections to the complicated web of Native American communities in the Northeast. I have highlighted information about each of these communities languages and current states of revitalization. Projects I am very closely involved in on varying levels with my work.
My documentation on the Bowman Indian families included within the blog spans from around 1650 in Natick, Massachusetts near Plymouth, where the name Bowman first appears as a Native American surname, to its present day prominence among the Nipmuc, Abenaki, Delaware, Lenape, Wampanoag, Stockbridge Munsee Mohican and many other Northeast Native American peoples.
I'm motivated to write this blog to gain a better understanding of my own Bowman line and the middle name I carry in honor of my great grandfather Jesse Bowman.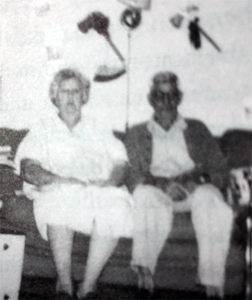 My great grandparents Marion and Jesse Bowman in the house I was raised in.
There has been much speculation about his Native American ancestry. The only traceable lines leading us to Mohawk ancestry, however the origins of our family have been long connected with Algonquian speaking peoples and my main passion is the field of Algonquian linguistics making this search even more relevant to me on a personal level.
I began this project on my website http://westernabenaki.com and will now continue to develop it here, in the much better format a blog offers, as new information becomes available about the family and its many branches. Please feel free to offer any information you may know or find about the family and if relevant I will include it in the blog.