The Kahnawake Mohawk Territory is a reserve of the traditionally Iroquoian-speaking Mohawk nation on the south shore of the St. Lawrence River in Quebec, Canada, across from Montreal. Recorded by French Canadians in 1719 as a Jesuit mission, it has also been known as Seigneury Sault du St. Louis, Caughnawaga and 17 European spelling variations of the Mohawk Kahnawake.
Kahnawake's territory totals an area of 48.05 square kilometres. Its resident population numbers about 8,000, with a significant number living off the territory. Its land base today is unevenly distributed due to federal Indian Act law that oversees individual land possession, unlike the Canadian norms that apply to the land around it. Kahnawake residents originally spoke their Mohawk language, and some learned French when under French rule. Allied with the British government during the American Revolutionary War and the Lower Canada Rebellion, they have since become mostly English speaking.
Historically the most easterly nation of the Haudenosaunee (Six Nations Iroquois Confederacy) and are known as the "Keepers of the Eastern Door". They were the first Iroquois tribe west of the Hudson River in present-day New York, where they protected other parts of the confederacy to the west against invasion by tribes from present-day New England and the coastal areas.
Kahnawake is one of several territories of the Mohawk Nation within the borders of Canada, including Kanesatake on the north shore of the St. Lawrence River northwest of Montreal; Akwesasne, which straddles the borders of Quebec, Ontario and New York; and the Six Nations of the Grand River First Nation north of Lake Erie. In the eighteenth and early nineteenth centuries, the community was historically considered one of the Seven Nations of Canada.
The name is derived from a Mohawk word meaning "place of the rapids", referring to their major village Caughnawaga near the rapids of the Mohawk River in New York. When converted Catholic Mohawk moved to the Montreal area, they named the new settlement after their former one. The highly visible proximity of the Lachine Rapids no doubt also influenced their naming decision.
Darren Bonnapart a Mohawk hostiorian suggests that the Bowman family at Kahnawake may have came after Roger's Raid hit the Abenaki Community of Odanak in 1759 as many Abenakis joined their community at that time.
BOWMAN MOHAWK ancestry from our VANANTWERPs
10 Jesse Bowman
9. Alice Van Antwerp
8. Daniel Wynet Van Antwerp
7. Winant Van Antwerp
6. Douwe VanAntwerp
5. Hendrikje Fonda VanBuren
4. Aaltje VanNess VanBuren
3. Cornelius VanBuren
2. Elizabeth VanSlyck
1. Ots Toch Hartell
CHIEF BEAUMAIN (born app. 1720)
Beaumain is a common variant spelling of Bowman.
"The continuous presence of small war parties in the field during the winter and major expeditions in the winter of 1755-56 and 1756-57 kept scores of hunters from their winter hunt, reducing the amoung of dried meat available for consumption in the spring and summer. Large-scale campaigning took place in the summer. This was a delicate time from an economic perspective, when stored produce from the previous harvest and the winter hunt was running out and the new crops were not yet in. Living among the Abenaki at Odanak, Titus King found that in the "month of July the indians with who I lived told me that their victuals was all gone." These costs of military participation were at least partly balanced by the logistical support provided by the French crown to Amerindian fighters and their families. Detailed records of these expenditures from September 1746, during the War of the Austrian Succession, gives some idea of the scope and scale of such support. When warriors in the field could not contribute to the support of their families, the French crown stepped in. Beaumain, a chief at Kahnawake, received seven metres of fine cloth and three metres of flannel "to clothe his family which he cannot do." Four Abenakis, then living at Kahnawake, received from the French an assortment of goods "to put them in a state to go to war." – The Canadian Iroquois and the Seven Years' War by D. Peter Macload, Canadian War Museum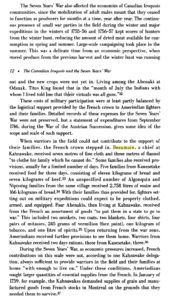 From The Savage Damsel and the Dawf, "I'm sure you are every bit as dim as Sir Beaumains here." Sir Persant roared with laughter. "Well spoken,master dwarf! Mayhaps if this knight Sir Bowman will oblige me-" – Lady Lynet. pg 104. By Gerald Morris
What secret does Beaumain entrust to Lancelot? Beaumain told Lancelot the secret of his real name, which was Gareth.
DELIA BONE (1829-1882)
(dit BOWMAN, Bone, Bean, Benware, Benway, Benoit)
Birth: 1829
Kahnawake
Quebec, Canada
Death:
Feb. 27, 1882
South Burlington
Chittenden County
Vermont, USA
Spouse:
Peter Phillips (1809 – 1906)
Burial:
Saint Joseph Cemetery
Burlington
Chittenden County
Vermont, USA
http://www.findagrave.com/cgi-bin/fg.cgi?page=gr&GRid=101830591
Burial Permit Record
for
Delia BOWMAN
(nee: Bone/Benway/Benware/Lefebvre)
wife of "Old" Pierre Peter Phillips
No. 1103
Female
"Colored"
Age 47 years
Died
February 27 1882
South Burlington, Vermont
Catholic Cemetery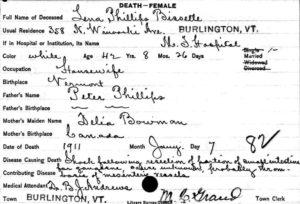 STATE OF VERMONT'S RESPONSE
TO PETITION FOR FEDERAL ACKNOWLEDGMENT
OF THE ST. FRANCIS/SOKOKI BAND
OF THE ABENAKI NATION OF VERMONT
~
STATE OF VERMONT
WILLIAM H. SORRELL, ATTORNEY GENERAL
Eve Jacobs-Carnahan, Special Assistant Attorney General
December 2002
Second Printing, January 2003
Unredacted Document Pertaining to Exhibit 9 (Page 4)
PHILLIPS GENERAL HISTORY.
GENERATION II.
CHILDREN OF CATHERINE CADAIVE, AI, #1, AND ANTHONY PHILLIPS, AI, #2.
A#1. Delia Bone dit Bowman
This individual goes by a great variety of names. The vital statistics of her children record her name in the following ways:–
Rosella Bonne, Caroline Bone, Delina Bonno, Lemas Beam, Delina Bones (or Boner), Delina Benware, Rose Dellabaum, Delia Bowman, Delorne Bon.
Cora Stark Phillips, III #15, says that Lemas Bone was part Indian and part French. She came from an Indian Reservation Caughnewaga, sixteen miles from Montreal. The same informant says that Lemas Bone dit Bowman had a sister living at that reservation. She also has half/brothers, Tom and Frank Benway dit Bowman, living in Burlington on Winooski Road. Matilda Leopard Phillips (Young Matilda) said that Delia Bone Phillips has a sister, Lucy Bone Pecor, wife of Louis Pecor, a Civil War veteran. "Aunt Lucy" and her husband lived in Charlestown, N.H. Louis Pecor has a Government Pension. Lucy was really a half-sister of Lemas. Delia Bone was the first wife of Peter Phillips the first.
At some time Peter and Delia must have been living in Canada as their daughter Selina was born there. Somewhere about 1847 they were living in Highgate Falls, Vt. In 1865 they were living in Rutland. Some time between 1878 and 1885 they were living in Quechee, Vt.
According to the marriage record of her daughter Louise, Delia Bone was born in Quebec, Canada.
Delia Bone is buried in St. Joseph's Cemetery, Burlington. We have not verified her death.