The Abenaki (Abnaki, Aln8bak) are a Native American tribe and a First Nations band government. They are one of the Algonquian-speaking peoples of northeastern North America. The Abenaki live in Quebec and the Maritimes of Canada and in the New England region of the United States, a region called Wabanahkik ("Dawn Land") in the Eastern Algonquian languages. The Abenaki are one of the five members of the Wabanaki Confederacy. "Abenaki" is a linguistic and geographic grouping; historically there was not a strong central authority, but as listed below a large number of smaller bands and tribes who shared many cultural traits, and who came together as a post-contact community after their original tribes were decimated by colonization, warfare and disease.
George Bowman (1854-?)
(1) Abbe Jane Proper b. Abt. 1853, m (1) 7-Aug-1870, in Highgate, Franklin Co., VT, 16 George Bowman, m. http://archiver.rootsweb.ancestry.com/th/read/DECKER/2001-07/0994882564
Lewis Bowman (my great, great grandfather) (1844)
(1) Lewis was born in East Farnham, Brome-Missisquoi County, Quebec, Canada.
(2) 1859-Lewis Bowman was resident in Richmond, Chittenden County, Vermont.
(3) 1860-1861- Lewis Bowman resided in St. Albans, Franklin County, Vermont.
(4) August 29, 1864 Lewis Bowman enlisted into the Civil War from Troy, Rensselaer County, New York.
January 25, 1882 State of New York County of Saratoga
In the matter of the original invalid pension claim No. 88821 of Lewis Bowman of Co. E., 69th Regt N.Y. State Volunteers, Lewis Bowman, age 37 years and a resident of Porters Corners in the County of Saratoga County, New York, stated that for 5 years immediately preceding his enlistment into the service of the United States on the 29th day of August, 1864, that he had resided in the following places:
Richmond, Vermont in 1859
In 1860 & 1862 at St. Albans, Vermont
At Albany, NY in 1862
And at time of enlistment at Troy, N.Y.
His occupation was that of a Laborer
Since his discharge from the service on the 14th day of August 1865, he has been residing in Cohose, Albany County, New York for about two [2] years.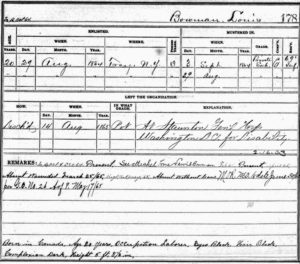 Physical description of Lewis Bowman from Civil War Records:
Louis Bowman
Age: 20 years
Born: Canada
Occupation: Laborer
Eyes: Black
Hair: Black
Complexion: Dark
Height: 5 ft., 8 1/2 inches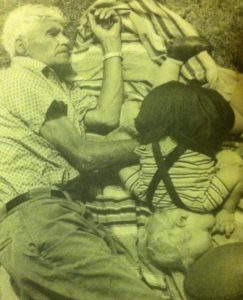 Lewis Bowman's son (my great grandfather) with my brother James Bruchac.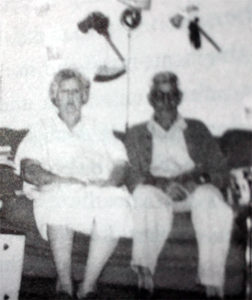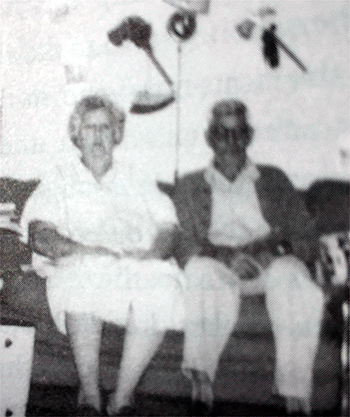 Marion and Jesse Bowman at the home where I was raised in Greenfield Center, NY
From the Missisquoi Abenaki Petition for Federal Recognition:
Page 343: Also in 1910, in Highgate, Joseph Bouman (Obomsawin) and Brisbois family appear in the records of Missisquoi. 1519. These two families hail from central Vermont and the Lake George community. Their presence suggests that migration back and forth to that area as well as Odanak was still occurring in 1910. In fact, oral tradition from the Bowman Joseph Bruchac family and the Maurice Denis Adirondack Abenaki family has confirmed the existence of the Vermont Abenaki community in the 20th century. 1520. Footnote 1519. See Household # 232 in 1910 Highgate, Vermont Census in Appendix 11. Footnote 1520. 2282, 8/5/83: 2283, 8/5/83: 1-4.
Page 344: In the Bouman Bowman present family members recall when their grandfather Jesse E. (Elmer) Bowman would "disappear" for awhile to go visit relatives "in Vermont" in this century.
Brisbois is a common Odanak/Saint Francis Abenaki family. It is usually spelled Plispwa in Abenaki.
Brisbois, Blispwa or Plispwa
Dubois
Wood – U.S.
Earliest Occurrences of the Name
1757 Michel Dubois is recorded as 'Sauvage' in parish registers
Francois Brisebois appears on the Odanak roster of 1812 veterans with heirs in 1844
Francois Brisebois [Jr], changed his name to Frank Wood and moved to the US.
Places Family is Found
Odanak – 1812 to 20th Century
Durham
NY State
Notes:
The family names appears in St. Francois church records from the early 1700s. However, the only documented Native connections we have are the two Francois' that m. Abenaki women and Michel Dubois 'Sauvage' that married at St. Francois in 1757. The elder Francois died about 1823. His son, Francois Xavier, was living with the younger Charles Chouaganne in 1841 and in 1844 he is listed as absent 2 years. He m. 1844 Anastasie Obomsawine. She died between 1857 & 1861. Francois Xavier appears to be the man that m. Marie Eulalie Phaneuf at Coopersville NY in 1859 and started a 2nd family using the surnames Dubois & Wood. The children of his 1st marriage are living with relatives at Odanak in 1861.
Obomsawine
Obumsawin
Roberts
DeGonzague / de Gonzague
perhaps Abomazeen on the Kennebec River
Places Family is Found
Odanak
Missisquoi
Earliest Occurrences of the Name
perhaps Abomazeen, a chief from Norridgewock killed in 1724.
1765 Joseph Abomsawin signed the Robertson lease of Missisquoi land.
1769 Francois Xavier Abemesin was a chief at Odanak.
Notes:
The Robert & de Gonzague families are believed to be a branch of the Obomsawin family. [Day] A document written in 1882 and citing Maurault's history of the Abenaki claims that the Obomsawin family descends from a white captive brought to Odanak during the colonial wars. One researcher believes that Pierre Joseph Robert Obomsawin of Odanak is the son of Joseph Robert Namur whose parents were married at Fort St. Frederick in 1751.
Source: http://www.nedoba.org
Maurice Denis, an elder and tradition bearer of the Odanak Reservation, who ran the Indian Village at the Enchanted Forest in Old Forge, New York believed that the Bowman family and Obomsawin family were the same. There is no way to prove this, however, it is clear that, based on the available documentation, the BOMAN/BOWMAN as an Eastern Algonquian Family name, can actually be traced back farther in time than OBOMSAWIN. BOWMAN is first documented in 1656 with WILLIAM BOMAN signs the "Nipmuck Deed of John Stone," and OBOMSAWIN in 1693 as BOMMASIN signs the "Truce at Pemaquid."
OBOMSAWIN FAMILY EARLIEST RECORDED SPELLINGS:
Bommasin Jul.21, 1693
Bommasin signed a truce at Pemaquid
Vol.30 : Page 333
Bomaseen Aug.11, 1693
Bomaseen is in a treaty of the Eastern Indians
Vol.30 : Page 339
Bomaseen/Bombaseen/Bomazeen 1694/1695/1706/1710/1721/1724
Bomaseen, a Norridgewock Chief, is mentioned in Governor Hutchinson's manuscript history of Massachusetts Vol.2
Vol.28 : Folio 11 : Pages 57,60-61 Vol.28 : Folio 18 : Page 128 Vol.28 : Folio 20 : Page 149 Vol.28 : Folio 31 : Page 212 Vol.28 : Folio 36 : Pages 241, 243 Vol.28 : Folio 54 : Page 343 Vol.28 : Folio 61 : Pages 53-55,58 Vol.28 : Folio 68 : Page 94 Vol.28 : Folio 73 : Page 113 Vol.28 : Folio 86 : Page 166 Vol.28 : Folio 90 : Page 188 Vol.28 : Folio 91 : Page 190
Bomaseen May 31, 1695
Bomaseen is an Eastern Indian; an account by Grace Higiman of his bringing English prisoners and scalps to the French; he also commanded in an attack on Oyster River
Vol.8 : Pages 36-38
Bomaseen Jun.11, 1695
Bomaseen took part in an attack on Oyster River killing Ann Jenkin's husband and also a child; also taking Ann Jenkin, her three remaining children and other inhabitants captive Vol.8 : Page 40
Bomaseen/Bummaseen Jul.13, 1713
Bomaseen is a delegate from Kennebeck
Vol.29 : Pages 4,6
Bomazeen/Bombazeen 1694
Bomazeen, a Norridgewock Chief, is mentioned in Governor Hutchinson's manuscript history of Massachusetts Vol.2
Vol.28 : Folio 11 : Pages 56-57
Bomazeen, Capt. Dec.27, 1701
Captain Bomazeen is a messenger for a Sagamore at Norridgewock
Vol.30 : Pages 480,482
Bomazene/Bumazen Mar.7, 1695/1696
Bomazene was a prisoner from Mar.1-Dec.5, 1695 at a cost of L4 19s 6d and from Dec.5, 1695-Feb.27, 1696 at a cost of L2 8s according to keeper Caleb Ray's account Vol.40 : Page 351
Bomazy Jun.17, 1696
Bomazy with hostages was, according to keeper Caleb Ray's petition, boarded at an inadequate compensation at a Boston jail from Dec.5, 1695-Feb.27, 1696 and thereafter at a cost of L17 18s 11d
Vol.40 : Page 373
Bomazyn Jun.11, 1697
Bomazyn was in a Boston jail between Mar.23-May 26, 1697; keeper Caleb Ray sought L1 16s as a reimbursement for the cost of board
Vol.40 : Pages 448,450
Bomazyn Sep.8-Oct.29, 1697
Bomazyn was kept in a Boston jail between May 26-Oct.13, 1697 at a cost of L4
Vol.40 : Pages 465,468
Bomazyn Dec.18, 1697
Bomazyn and Sheepscot John's two sons were in a Boston jail from Oct.13, 1697 to date at a total cost of L5 13s
Vol.40 : Page 499
Bomazyn Dec.1, 1698
Bomazyn was in a Boston jail between Jun.3-Nov.18, 1698 at a cost of L4 16s
Vol.40 : Page 532
Bombasine 1697/1698
a petition of Bombasine stating that he has been imprisoned for four years and is asking for a trial
Vol.30 : Page 437
Bombazeen May 23, 1698
a deposition of Damson Drew as to Bombazeen's treatment of her in the attack on Oyster River in 1694
Vol.8 : Page 41
Bombazeen Nov.30, 1698
Bombazeen and two others are to accompany the commissioners to the eastward and kept safe until all captives are delivered
Vol.30 : Page 438a
Bombazin Mar.16, 1694/1695
Bombazin was in a Boston prison between Nov.28-Dec.10, 1694; he was ordered by the Council to "go to the eastward"; returning, he was again committed on Feb.16, 1695 (unreleased as of March 1); keeper Caleb Ray's account included items bearing on the custody of Bombazin
Vol.40 : Page 313
Bommazeen Jul.23-28, 1714
Bommazeen, a Norridgewock Indian, is mentioned in a report of a conference
Vol.29 : Page 39
Bomoseene, Capt. Jun.25, 1695
Captain Bomoseene was held as a prisoner for seventeen weeks for whose maintenance keeper Caleb Ray disbursed L2 2s 6d
Vol.40 : Page 327
Bonkin, John Dec.2, 1751
John Bonkin is a Nantucket Indian; John is in a complaint against the English inhabitants of the island
Vol.32 : Page 391a
Boowoowonit, Jose Mar.13, 1694/1695
Jose Boowoowonit is a Nantucket Indian; Jose is in a petition
Vol.30 : Page 363